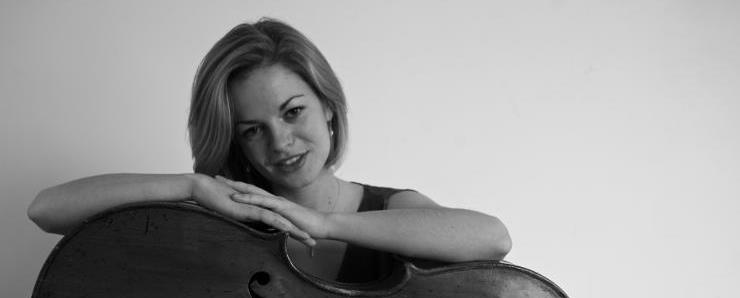 Cellist Ella Rundle is in demand as a soloist, chamber and orchestral musician. Award winner of the 2015 Philip and Dorothy Green Award for Young Concert Artists and 2013/14 Tillett Trust Young Artist she has performed as a soloist in venues such as Purcell Room, Snape Maltings and Wigmore Hall. As a concerto soloist Ella has appeared with orchestras such as Kensington Chamber Orchestra, New English Concert Orchestra and the Westminster Philharmonic.
She has been a member of the Philharmonia Orchestra since 2015 and has played guest principal cello with a range of orchestras including BBC Philharmonic, Bournemouth Symphony Orchestra, Royal Northern Sinfonia and Ulster Orchestra.
Ella studied at the Yehudi Menuhin School and the Guildhall School of Music and Drama with Louise Hopkins and completed her Masters degree in 2013 at the Universität der Künste, Berlin, with Konstantin Heidrich. She is grateful to have held scholarships from the Countess of Munster, DAAD, Martin Musical Scholarship Fund, Drapers' Company and the Worshipful Company of Musicians and the English Speaking Union to attend the IMS Prussia Cove masterclasses with Ralph Kirschbaum.
She gave her Wigmore Hall recital debut in November 2013 to critical acclaim.
'…a splendid account of Debussy's cello sonata, weaving together its disjointed eccentricities skilfully and quite briskly. Faure's Romance was eloquent and understated, and Chopin's Introduction and Polonaise Brilliante op.3 was performed with panache..' - The Strad, Wigmore Hall 2013.
As a chamber musician she has toured extensively throughout Europe including France, Denmark and Istanbul. She has played on BBC Radio 3's In Tune, Portuguese radio RTP and on SWR Germany. She has been invited to play in festivals such as Fête de la Forêt Musicale (France), Festival Pontiac Enchante (Ottawa), Birdfoot Festival (New Orleans), Thy (Denmark) and Viana (Portugal), where she has performed alongside artists including Peter Donohoe and Jean-Guihen Queyras.
Ella is also a member of the cello octet "Cellophony" which was established in 2007 in London. Cellophony were Park Lane Group Young Artists and they appeared at London's Purcell Room in the opening concert of the New Year Series to critical acclaim: "Just blows you away… thrown off with terrific panache" – The Daily Telegraph. They released their second CD 'Alice in Wonderland' and 'The Wind in the Willows' in collaboration with Simon Callow in March.